In an effort to combat toxic and abusive behavior on the platform, Microsoft is rolling out a new Xbox feature that will let users clip and report offensive voice chat. The new functionality brings voice chat reporting in line with options already available for text, images, and video on Xbox.
Voice chat reporting is 'the next step' in Xbox's attempts to ensure player safety.
In an interview with The Verge, Xbox general manager of trust and safety Kim Kunes outlined the details of the voice reporting system and what Xbox hoped to accomplish with the new feature. Citing existing tools for players to report offensive text and imagery on Xbox, Kunes implied that introducing voice moderation was a logical next step to protect players online. Currently in limited testing with Xbox Insider members, voice reporting will only work on Microsoft's Xbox Series X|S consoles and Xbox One.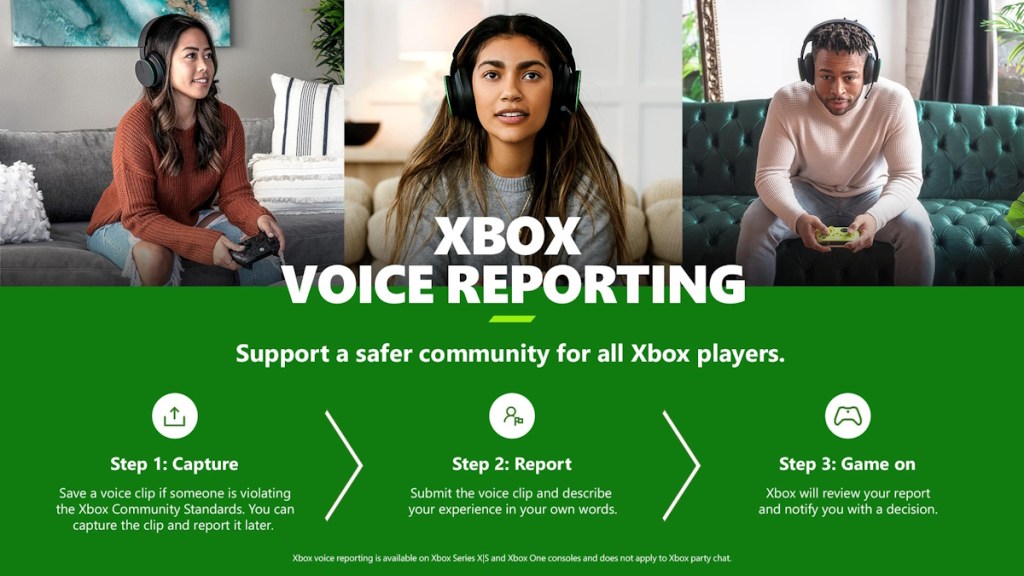 Now when gamers encounter racism, homophobia, or other offensive in-game chat on Xbox, they'll be able to capture up to a 60-second clip that can be shared with the moderation team. Users will also be able to provide additional text for context and will be notified of what actions, if any, were taken by Xbox. Players who feel they were the target of unfair moderation resulting from voice reporting will also be able to submit an appeal. The new Xbox voice reporting feature is available in a small number of English-speaking countries for now, but Kunes states the company "will finalize [its] plan for a wider rollout" as they receive more feedback from testers.
Anticipating the inevitable privacy concerns with the new feature, Kunes explained how Xbox safeguards players' voice chat data. Voice chat recordings will only be activated when players choose to capture a clip and, from there, will be "only available for moderation purposes." Xbox will also delete captured clips within 24 hours, with players receiving a reminder to submit their report before the clip expires. Sony already has a similar system in place for reporting inappropriate voice chat on PlayStation 5, while features like Modern Warfare 2's offensive chat warnings show an increased willingness of developers to implement such systems directly into games.